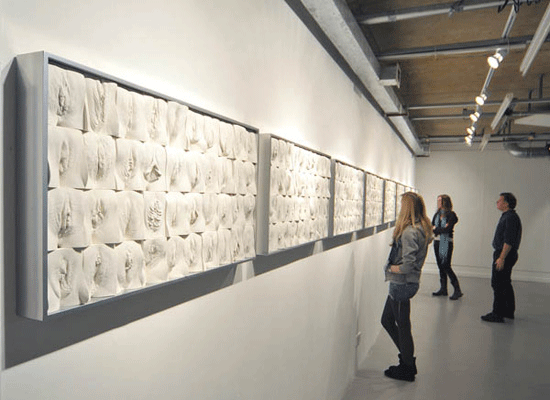 Image via
gwov.co.uk
Many moons ago, I wrote about
3 books I think every woman should read
. I recommended these particular books because they helped me personally to take pride and strength from being a woman, when I was in a crisis about myself as a person with female genitalia, since American culture is VERY male-centric.
One of the most powerful results of my reading those books was feeling like I finally had a grasp (no pun intended) on what was going on "down there." IMO women are not properly taught AT ALL about how their bodies work, and we're often left feeling as if there's something ugly or disgusting about our lady bits. So, of course, I think it's fabulous that
artist Jaime McCartney
spent 5 years casting the vulvas of female volunteers to create
"The Great Wall of Vagina."

"The Great Wall of Vagina" is about 30 feet long and contains 400 plaster casts of vaginas from women all over the world, from 19 years old to 76. The
exhibit website
states:
It's not vulgar, it's vulva!

This isn't just sensation, it is art with a social conscience

and McCartney wants people to stop, look and listen. This is about grabbing the attention, using humour and spectacle, and then educating people about what normal women really look like.

Described as "the Vagina Monologues of sculpture" this piece is intended to change the lives of women, forever.



"For many women their genital appearance is a source of anxiety and I was in a unique position to do something about that."

Vulvas and labia are as different as faces and many people, particularly women, don't seem to know that. McCartney hopes this sculpture will help to combat the exponential rise, seen in recent years, of cosmetic labial surgeries. This worrying trend to create 'perfect' vaginas is the modern day equivalent of female genital mutilation and sets a worrying precedent for future generations of women.
Finally, here's video featuring images of the installation and video of McCartney talking about the project:
(Click here to see embedded video)
If this exhibit was in your town, would you go see it? Why or why not?

Related posts:
3 Books Every Woman Should Read
Erotic Power & the Pin-Up,
Part 1
,
2
,
3
,
4
,
5
,
6
,
7
,
8
,
9
Like what you see? Subscribe here