Futurama's second direct-to-DVD movie, The Beast With a Billion Backs, was released last week with the geeky blogosphere in a titter about how much it focused on sex. Turns out it doesn't just have lots of sex, it goes much farther, making the Christian idea of "heaven" into an other-dimensional, polyamorous tentacle creature/planet. Crazy? Absolutely.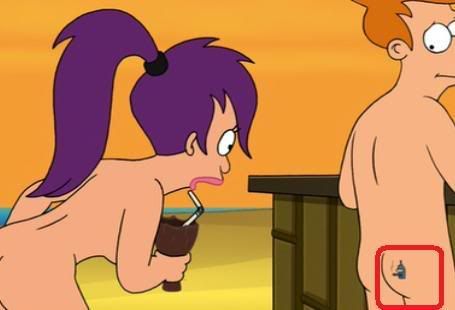 In Bender's Big Score, the first Futurama movie, a time-travel code (discovered as a tattoo of Bender of Fry's ass [pictured above]) has led to a rip in our dimension. Beast With a Billion Backs picks up where that left off: Fry makes first contact and brings the creature (at least its tentacles) back to Earth with him, where everyone is "infected" with a tentacle that makes them polyamorous. Eventually, all humans decide to leave Earth for Yivo, the tentacle creature/planet, and when they reach its surface they find it is the cloudy paradise Christians have always longed for. Apparently, Yivo sent ideas of itself to artists way back when, because it was lonely and wanted someone to love.


Everyone lives there contentedly, except for Lela, enjoying mattress island or a million other delites. Bender, luckily, doesn't let that go on for long, and the robots come to claim their humans back, but overall, I was both amused and surprised that the entire freaking plot revolves around polyamorous relationships. I'm poly myself and even I didn't find it that interesting. Sure it was funny and all, but because they left behind the core Futurama relationship dyanamics, it fell flat.

Overall, Bender's Big Score still wins out over The Beast, in my opinion. I mean, BBS has got the great moments that connect it to the first episode of Futurama and the saddest episode of Futurama (you know what I mean, you big cry baby!) and all of the other Futurama elements we've come to know and love: like Nibbler, crazy Santa and Lela turning Fry down.

I think it's pretty telling that my favorite moment in The Beast didn't even involve a repeat character. It was just some giant robot who got to yell "MY LEG FEELS FUNNY!" I certainly hope that the next two movies bring Futurama back to what makes it awesome: the same old thing in a new crazy way.