My two favorite things about the internets these days are blogs and web comics. The web comics I love never cease to surprise and amuse me and since I love sharing things that make me smile, I thought I'd let you in on my favorites:

Basic Instructions
Granted, I've already blogged about this one before, but I can't not list my favorites without it. Basic Instructions ("your all inclusive guide to a life well-lived") is written and drawn by a guy who I found online via our mutual friends in Seattle and I have been reading his comic ever since. He presents situations that are so ridiculous but so realistic I can't help nodding in agreement and cracking up over every comic I read. Good advice, but even better laughs. Here's a recent Halloween-inspired one:



Questionable Content
Questionable Content tells the story of an ever-growing group of hipster types. They work at coffee shops, libraries and the like, are all into music (several are in a band and another is a singer/songwriter), talking electronic gadgets (there's 3) and other random hipster-ish things. I was introduced to this from a friend and sat down and read through the archive all the way through. I was so disappointed when I had read them all and finally had to wait for a new one every M-F like everyone else. I had to post two examples for you, because I couldn't not share one with Hanners (she's my favorite), but the second one is quite possibly one of the funniest. Click 'em to see the full size version:


XKCD
XKCD is pretty big on the internets, especially among tech and internets geek types because, though it says its a "webcomic of romance, sarcasm, math, and language" it's really just poking fun at what silly people humans are (especially on the internets). I absolutely love it.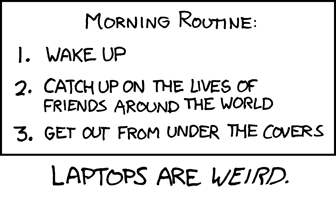 Local Girl's Day in Pictures
LCDiP is the webcomic journal of a British woman who just recently got back from a trip to Canada and the US. Her outlook on what happens to her daily is hilarious and gently self-mocking. I love how she sees humor in some of the most random-mundane events. Here's one she did about looking for roommates after getting back to the UK (click for full size):


Mows
Mows is my most recent subscription. I found it via ICanHasCheezburger where it's advertised pretty heavily, which makes sense since it's just about the silliness of kitties. The way they interact with humans is especially amusing to me:



Related posts:
Dilbert's Daddy Gives some Basic Instructions
Nick Swardson: Comic Fabulousness
Local Attorney is Immortal!

Like what you see? Subscribe here or add to Mixx