My favorite Asian director (besides Akira Kurosawa) is Wan Kar-Wai. His movies are always beautiful with the same kind of emotional depth and strangeness that I associate with Charlie Kaufman films. Chunking Express is one that I'd never seen before, and I was surprised that it had a happy ending. Wan Kar-Wai is amazing, but he doesn't usually give his characters happy endings.

In Chunking Express, two different cops are both trying to move on after being dumped. The first cop decides to fall in love with the next woman he sees, who happens to be a drug smuggler with a price on her head. The second cop's ex leaves his apartment key at a snack shop he frequents and the cute little girl who works there decides to let herself in... and generally sows chaos in his life.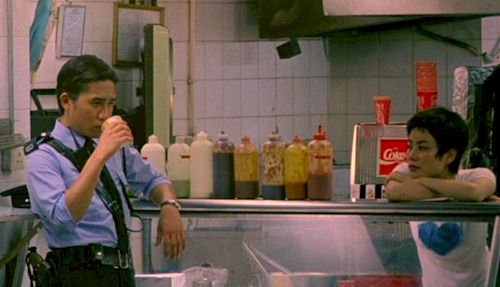 The second cop is played by Tony Leung Chiu Wai who is pretty much in all of Wan Kar-Wai's movies and is my favorite Asian actor (besides Toshiro Mifune). He's such a cutie-patootie and he can handle any role I've seen him in with perfection. Plus, he runs around in his underoos a lot in this movie and that was really amusing.

Wan Kar-Wai seems to build all of his movies from a single question or concept, usually one about relationships. In Chunking Express, that concept is that you can pass within one centimeter of someone and never even notice them... or they can change your life.