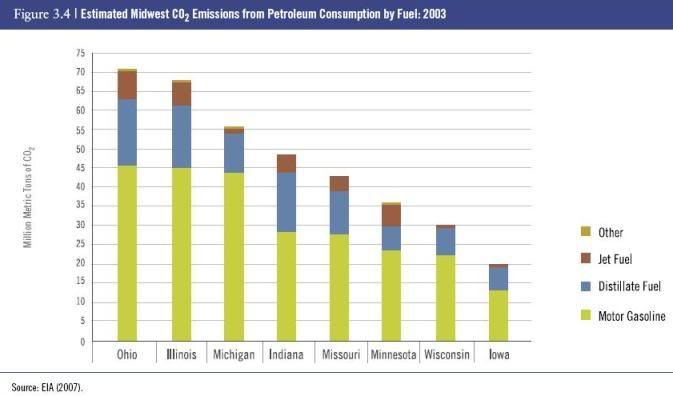 The World Resources Institute has released Charting the Midwest a report about the state of greenhouse gas (GHG) emissions in Illinois, Iowa, Michigan, Minnesota, Missouri, Ohio and Wisconsin.

Here are some of the highlights:
-In 2003, the states studied in this report accounted for 25% of US emissions and 5% of world emissions
-If the Midwest were a country, it would rank as the fifth largest emitter of GHG in the world
-Electric generation, transportation and industrial energy use accounted for 75% of emissions
-The average person in these states emits 13% more GHG annually than the national average
-Compared to the US overall, the Midwest is more dependent upon coal for energy

Key findings for Missouri:
"Between 1990 and 2003, Missouri experienced the largest absolute increase in total GHG emissions of any Midwest state, approximately 32 million metric tons of C02. This increase was largely driven by a 22% growth in transportation emissions and a region-leading 54% increase in emissions from electricity generation. Overall emissions growth in Missouri outpaced population growth by a factor of two." (page 14)

Sure, it's slightly depressing, but the good news is that this sort of thing is all the more reason why organizations like Bridging The Gap need to exist and I'm happy to be a part of it.